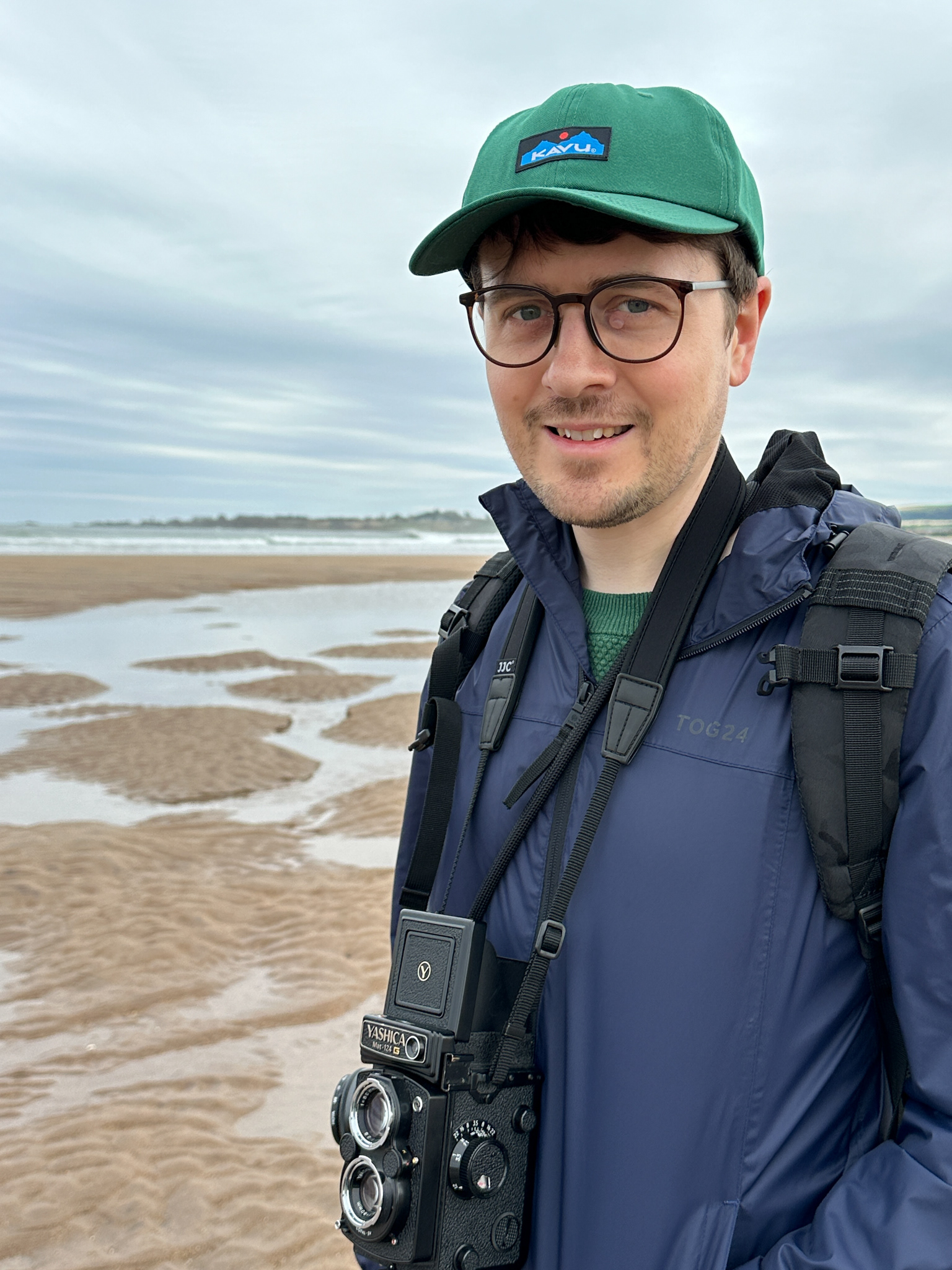 Biography
​
I'm a photographer based in Edinburgh, Scotland, and working across the UK. My personal projects focus on landscape, history and the natural world. I completed an MA in Documentary Photography and Photojournalism at the University of Westminster in 2019 and have participated in exhibitions in the UK and Germany.
If you have any questions about my work, print enquiries or ideas for a project or commission, you can get in touch with me via the
contact page
on this site, or on social media using the links on this page.
​
Education
​
2019 ∙ MA Documentary Photography and Photojournalism ∙ University of Westminster ∙ London
2013 ∙ BA (Hons) Photography ∙ Anglia Ruskin University ∙ Cambridge
​
Employment
​
2013 - 2023 ∙ Freelance Photographer ∙ Josh Murfitt Photography ∙ Edinburgh and Cambridge
2021 - 2023 ∙ Gallery Attendant ∙ National Galleries of Scotland ∙ Edinburgh
2016 - 2019 ∙ Photo Collections Assistant ∙ Museum of Archaeology and Anthropology ∙ Cambridge
2015 - 2016 ∙ Studio and Digitisation Assistant ∙ Museum of Archaeology and Anthropology ∙ Cambridge
2014 - 2015 ∙ Digitisation Assistant ∙ Cambridge University Library ∙ Cambridge
2013 - 2014 ∙ Studio Practice Supervisor ∙ Anglia Ruskin University ∙ Cambridge
Voluntary Work
​
2023 ∙ Volunteer Collections Researcher ∙ National Museums Scotland ∙ Edinburgh
2020 - 2021 ∙ Volunteer Gallery Attendant ∙ Inverleith House ∙ Royal Botanic Garden Edinburgh
2020 ∙ Voluntary Art Guardian ∙ Jupiter Artland ∙ Edinburgh
2020 ∙ Book Cataloguing Volunteer ∙ National Galleries of Scotland ∙ Edinburgh
2013 ∙ Studio Assistant Intern ∙ Green Lens Studios ∙ London
2010 - 2012 ∙ Volunteer Video Editor (PR) ∙ Royal Society for the Protection of Birds ∙ Sandy
Solo Exhibitions
​
2018 ∙ Islands of Birds ∙ The Edge Café ∙ Cambridge
2017 ∙ Level Ground: Cambridge Pinhole Photography ∙ The Edge Café ∙ Cambridge
2017 ∙ Land, Sea and Sky: Photographs from the Shetland Islands ∙ Hot Numbers Coffee ∙ Cambridge
2013 ∙ Private View: Photography by Josh Murfitt ∙ Green Lens Studios ∙ London
Group Exhibitions
​
2023 ∙ Conversations ∙ The Corridor (staff area) ∙ Scottish National Gallery of Modern Art ∙ Edinburgh
2023 ∙ Taking a Break ∙ The Corridor (staff area) ∙ Scottish National Gallery of Modern Art ∙ Edinburgh
2022 - 2023 ∙ Artists at Work 2 ∙ Scottish National Portrait Gallery ∙ Edinburgh
2022 ∙ Portrait Exchange ∙ The Corridor (staff area) ∙ Scottish National Gallery of Modern Art ∙ Edinburgh
2022 ∙ Reformulations ∙ London Gallery West ∙ University of Westminster
2020 ∙ All Art is Photography ∙ Biennale für aktuelle Fotografie ∙ Kunstverein Ludwigshafen
2019 ∙ That Was Now: MA Degree Show ∙ Ambika P3 ∙ London
2019 ∙ Everything, All the Time: MA Interim Exhibition ∙ The Street Gallery ∙ University of Westminster
2017 ∙ Orientation: MA Interim Exhibition ∙ The Street Gallery ∙ University of Westminster
2016 ∙ Shutter Hub OPEN ∙ Hot Numbers Coffee ∙ Cambridge
2014 ∙ Art Language Location: Shelf Life ∙ Waterstones ∙ Cambridge
2014 ∙ UX Cambridge ∙ Churchill College ∙ University of Cambridge
2013 ∙ We Surveil ∙ Hoxton Gallery: The Basement ∙ London
2013 ∙ aMUSE: BA Degree Show ∙ Ruskin Gallery ∙ Cambridge School of Art
2012 ∙ (Un) Sustainable? ∙ Ruskin Gallery ∙ Cambridge School of Art
2012 ∙ Bright Sparks ∙ Ruskin Gallery ∙ Cambridge School of Art
2012 ∙ Out of This World ∙ Cambridge Institute of Astronomy
Publications
​
2023 ∙ Reflect 2023 ∙ Stirling Photography Festival
2022 ∙ YEARBOOK 2022 ∙ Lloyd, Jayne ∙ Shutter Hub
2020 ∙ Biennale für aktuelle Fotografie: The Lives and Loves of Images ∙ Campany, David ∙ Kehrer Verlag
2009 ∙ The Photo Album, Volume 1 ∙ Frankie Magazine ∙ Morrison Media